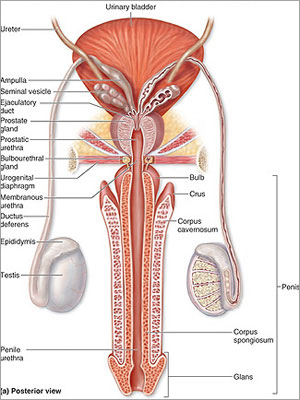 It takes sperm about 14 days to travel through the epididymis. From the epididymis, the sperms move into the vas deferens, a tubal structure that connects the epididymis with the seminal vesicles via a common ejaculatory duct.

The seminal vesicles are pouch like glands that produce the majority of the fluid seen during ejaculation.


Mature sperms remain in the vas deferens (in the widened upper end called the ampulla) until the man ejaculates, or expels fluid from his penis during intercourse.

As the man ejaculates, sperm combines with fluid from the seminal vesicles and with a thick secretion from the prostate gland thus causing semen.  The semen is deposited into the woman's vagina.